Making Weight Loss Surgery More Affordable for New Haven Patients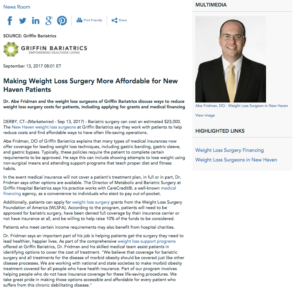 Dr. Abe Fridman and the weight loss surgeons of Griffin Bariatrics discuss ways to reduce weight loss surgery costs for patients, including applying for grants and medical financing.
Derby, CT — Bariatric surgery can cost an estimated $23,000. The New Haven weight loss surgeons at Griffin Bariatrics say they work with patients to help reduce costs and find affordable ways to have often life-saving operations.
Abe Fridman, DO of Griffin Bariatrics explains that many types of medical insurances now offer coverage for leading weight loss techniques, including gastric banding, gastric sleeve, and gastric bypass. Typically, these policies require the patient to complete certain requirements to be approved. He says this can include showing attempts to lose weight using non-surgical means and attending support programs that teach proper diet and fitness habits.
In the event medical insurance will not cover a patient's treatment plan, in full or in part, Dr. Fridman says other options are available. The Director of Metabolic and Bariatric Surgery at Griffin Hospital Bariatrics says his practice works with CareCredit®, a well-known medical financing agency, as a convenience to individuals who elect to pay out-of-pocket.
Additionally, patients can apply for weight loss surgery grants from the Weight Loss Surgery Foundation of America (WLSFA). According to the program, patients will need to be approved for bariatric surgery, have been denied full coverage by their insurance carrier or not have insurance at all, and be willing to help raise 10% of the funds to be considered.
Patients who meet certain income requirements may also benefit from hospital charities.
Dr. Fridman says an important part of his job is helping patients get the surgery they need to lead healthier, happier lives. As part of the comprehensive weight loss support programs offered at Griffin Bariatrics, Dr. Fridman and his skilled medical team assist patients in identifying options to cover the cost of treatment. "We believe that coverage for bariatric surgery and all treatments for the disease of morbid obesity should be covered just like other disease processes. We are working with national and state societies to make morbid obesity treatment covered for all people who have health insurance. Part of our program involves helping people who do not have insurance coverage for these life-saving procedures. We take great pride in making those options accessible and affordable for every patient who suffers from this chronic debilitating disease."
About Abe Fridman, DO
Dr. Abe Fridman is the Director of Metabolic and Bariatric Surgery at Griffin Hospital Bariatrics. He earned his undergraduate degree from Cornell University and his medical degree from New York College of Osteopathic Medicine. Dr. Fridman completed additional training in Minimally Invasive and Bariatric Surgery and has received numerous accolades, including the Sampath Kumar Award, which is given to the top surgical resident in the Lutheran Medical program. Dr. Fridman is an active member of the American Society of Metabolic and Bariatric Surgeons, the American College of Surgeons, and the American College of Osteopathic Surgeons. He is available for interview upon request.
For more information about Dr. Fridman and Griffin Bariatrics, please visit www.griffinhospitalbariatrics.com and facebook.com/Griffin.Bariatrics.
Contact:
Griffin Bariatrics
130 Division St.
Derby, CT 06418
(203) 732-7108
Rosemont Media
(858) 200-0044
www.rosemontmedia.com