Home

>

Your Weight Loss Surgery

-

Gastric Sleeve
Gastric Sleeve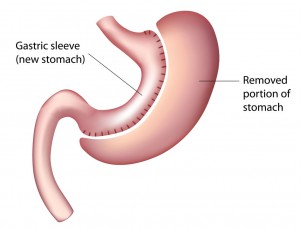 One of the newer bariatric surgery procedures, gastric sleeve surgery, also called a gastric sleeve resection or a sleeve gastrectomy, is generally considered to be a safe method of obesity surgery. In many cases, a gastric sleeve resection may be performed as the first part of a multi-step operation, such as with a gastric bypass. However, when patients have a high body mass index (BMI), our experienced weight loss physicians may determine that traditional weight loss surgery will be too dangerous. They may instead recommend the gastric sleeve, which typically offers a less invasive, safer procedure for many individuals. Once this initial operation is completed and some weight is lost, additional surgical weight loss methods, including duodenal switch or Roux-en-Y gastric bypass, may be considered.
Our bariatric surgeon will begin the operation by using a camera and small laparoscopic tools to reduce the size of the stomach. While viewing the abdomen on the screen, he will utilize staples to trim the stomach. A large portion will then be removed, leaving behind a smaller stomach that is similar in appearance to a banana or sleeve. The purpose of gastric sleeve surgery is to reduce stomach capacity so patients consume smaller portions, thereby losing weight. Despite the substantial reduction in size, the stomach will still function normally. Unlike gastric bypass surgery, gastric sleeve surgery and LAP-BAND® Adjustable Gastric Banding do not require intestinal rerouting or bypassing to achieve results.
For more information about gastric sleeve surgery, or to schedule a consultation with one of our skilled bariatric surgeons, please contact us today.
Benefits of Gastric Sleeve Surgery
Patients undergoing sleeve gastrectomy typically experience positive results. Within the first two years after surgery, as much as a 60 to 80 percent reduction in excess body weight can occur. Individuals who do not see a significant decrease in weight after gastric sleeve surgery may be candidates for a gastric bypass or another type of secondary operation. In most cases, diligently following a nutritional diet and making the appropriate lifestyle changes can help to ensure that continual weight loss and long-term effects are achieved.
Gastric Sleeve Surgery Risks
The gastric sleeve resection has been safely performed for many years, and this method is often utilized during other multi-step operations, such as a gastric bypass. Only recently, however, has the gastric sleeve approach been used as a standalone procedure. It is important to note, all surgery carries some risk. Potential complications of gastric sleeve surgery include:
Leaks at the staple lines
Stretching of the stomach, leading to weight regain
Consumption of soft foods, which will not result in feeling full, though calories will be absorbed
Gastric Sleeve Surgery Cost
Obesity treatments, including sleeve gastrectomy, are often covered by a patient's health insurance policy; however, some providers may deem the procedure investigational. If this is the case, they typically will not provide coverage. Additionally, some policies require individuals to follow a physician-supervised diet or schedule a special medical consultation before approving the surgery. Our caring and knowledgeable weight loss staff will be prepared to help our patients through every step of the insurance process, from understanding the paperwork to achieving approval. In the event of denied coverage, we offer financing through a specialized weight loss surgery lender.
Gastric Sleeve Surgeons
At Griffin Hospital, we care about our patients' health and wellbeing. We offer an exceptional selection of weight loss surgery procedures and programs in Connecticut, and our bariatric physicians and staff seek to optimize results every step of the way. To discover more about how to achieve weight loss success with our help, please register for a free seminar.
Frequently Asked Questions (FAQs) About Gastric Sleeve Surgery
As a helpful resource for individuals considering bariatric surgery, we have provided answers to commonly asked questions. If you would like to learn more about gastric sleeve surgery, we encourage you to contact us to schedule a consultation.
Who is a good candidate for this procedure?
There are several criteria that will be evaluated to determine whether gastric sleeve surgery, another type of bariatric surgery, or another weight loss method will optimize your results. We will review your medical history, discuss your lifestyle habits, and talk about your expectations for the outcome. Additionally, you should have a body mass index (BMI) of 35 or above, although your individual health conditions and characteristics will also be taken into consideration. During your initial consultation, we encourage you to ask questions and be open about your concerns to become well-informed about your options.
Will I need to follow a diet prior to surgery?
Yes, and your pre- and post-operative diets are both very important to your success. Most medical insurance plans require patients to go on a diet before the surgery to show they have tried all alternatives before the operation. Additionally, a liquid-only diet will be necessary for a week or two before the procedure. This diet shrinks the liver, allowing the surgeon to see the anatomical structures of the abdomen more clearly and enhance your safety. We will review the specifics of the diet with you so you are fully aware of what's involved.
Will I need to take any vitamins following surgery?
Yes. Since the surgery reduces the size of the stomach, you will not be able to absorb as many nutrients and vitamins as you would with full use of your stomach. This allows you to take in fewer calories, but it also means that we will need to prescribe you certain supplements to support your health and weight loss. Every person's dietary needs are unique, and your surgeon will discuss which vitamins will be recommended during your discussions.
How long until I can return to normal activities?
We typically advise patients to take two weeks off from work and their normal day-to-day activities. Recovery can extend beyond this point, and we encourage you to listen to your body to determine when you are ready to return to your normal schedule. Your hospital stay will likely last two or three days, per your surgeon's recommendation. Additional details will be provided as needed based on your individual treatment plan, needs, and goals.
Can this procedure be reversed?
No, gastric sleeve surgery is designed to permanently reduce the size of your stomach and cannot be reversed. That said, most patients lose a significant amount of weight successfully and complications are quite rare. In the event that you gain some weight back, we can help you reboot your diet and exercise regimen and stabilize your weight. Griffin Bariatrics is committed to lifelong care, and we will continue to provide comprehensive weight loss support for as long as you like.
If you have additional questions about gastric sleeve surgery, or if you wish to schedule a consultation, please contact our office today.