Home

>

Comprehensive Support

-

Post Surgery Nutrition
Post Surgery Nutrition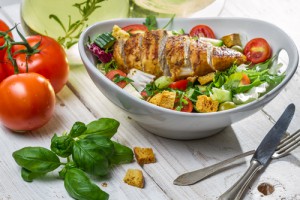 Bariatric surgery is the first step in a lifelong journey toward improved health, increased activity, and enhanced well-being. After the operation, you will need to follow certain nutritional guidelines to help optimize your weight loss, minimize complications, and take in the amount and types of nutrients your body requires. At Griffin Bariatric Hospital, our experienced weight loss surgeons and knowledgeable medical team will customize meal plans and nutritional recommendations to suit your bariatric surgery requirements, anatomic needs, and expressed goals. To help you plan your meals at home and on the go, we have provided a brief overview of some general rules.
If you have additional questions about what you should or shouldn't eat after weight loss surgery please contact us today.
Nutrition Guidelines
Just as important as what you eat is how you eat it, and beverages must be regulated as well as solid foods, particularly any liquids other than water. While each type of weight loss surgery has specific nutritional instructions, in general you should try to:
Consume the recommended number of calories per day for the first two months following surgery, or as many as your surgeon recommends. After this period, you should follow the diet restrictions outlined by our medical team
Keep a record of your daily calorie and protein intake
Eat slowly, take small bites, and chew thoroughly
Avoid drinking carbonated beverages, which can cause gas build-up and discomfort
Avoid sugar, sweets, fatty foods, caffeine, and fruit juices
Choose ground meats instead of whole, particularly with beef and pork, as they are easier to digest
Avoid rice and bread, and consume fruits, vegetables, and starchy foods in moderation
Drink at least 8 cups (64 ounces) of fluids per day
Consume small, balanced meals four to five times per day
Avoid alcohol
Vitamins and Supplements
Your diet will likely be very different after surgery than before, and you will need to take in plenty of protein—we typically recommend 65-75 grams per day—to preserve your muscle and stay healthy. Some examples of high-protein foods include eggs, fish and seafood, meats, poultry, and dairy products (milk, cottage cheese, yogurt), as well as soy milk and tofu. You will also be instructed to take certain vitamins and supplements to help meet your dietary needs, such as a multivitamin, calcium, Vitamin D, and Vitamin B12. You may also require iron and folic acid. Your surgeon will provide a list of required supplements during your consultation and adjust these nutrients as needed throughout your weight loss journey.
Diet Progression
Prior to your operation, you will receive a comprehensive packet that details instructions for your diet, eating habits, vitamin supplements, and other important information so you will be well prepared for your return home. Immediately following the operation through recovery you will have a restricted diet while you heal and acclimate to your new, smaller stomach size. We utilize a 5 Stage Post-Op Bariatric Diet Program, which slowly introduces food over time in the following phases:
Clear Liquid
Full Liquid
Pureed Foods
Soft Foods
Regular/Advanced Foods
We want you to feel comfortable, confident, and in control on your path to improved health, and we are ready to provide additional support and information when you need it. If you have questions about your diet, please let us know and we will be happy to provide assistance.
Choosing bariatric surgery is a life changing decision, and we're here to help you achieve your weight loss goals every step of the way. For more information about post bariatric surgery nutrition guidelines and what to expect following a weight loss operation please contact our office today.
Post-Surgery Nutrition Class
Join us for fantastic talks by Griffin Clinical Dietitian Larissa Zepko-March, RD, where you'll learn some great tricks, recipes, and more! All Post-Op patients are welcome – for available dates and to register online visit: www.griffinhealth.org/events.
Upcoming dates: