Home

>

Comprehensive Support
Comprehensive Support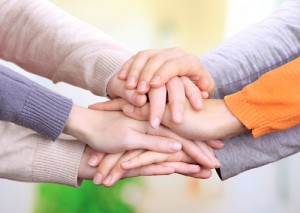 Your surgery date may seem like the most important day on your path to a happier, healthier lifestyle. In reality, however, the day of surgery is only a small part of your journey. Griffin Hospital, a Planetree facility, deeply understands the bariatric surgery continuum of care and offers its patients support through Griffin Bariatrics' comprehensive program.
Many centuries ago, Hippocrates, the father of modern medicine, sat beneath a plane tree, or sycamore, and taught his medical students. With this same commitment to education, the Planetree philosophy at Griffin Hospital is meant to support individuals who wish to learn more about healthcare and medicine in order to become active participants in their own health and healing.
Unlike most programs in Connecticut, Griffin Hospital offers gastric bypass, gastric sleeve and lap band patients the opportunity to participate in a variety of support programs designed especially for their health and wellness before and after surgery. At Griffin Hospital, patients have support at their fingertips in the form of exercise programs, support groups, nutritional and behavioral counseling, education, and diagnostic imaging services.
You can register for all support services online or by calling 203.732.7108.
THE ON TRACK PROGRAM
Perhaps you had bariatric surgery in the past and lost a significant amount of weight. But, as time went by, some of the weight may have returned. Or maybe you are just starting your weight loss journey and want to meet other people who have gone through the process. The Griffin Hospital On Track Program will address the special needs of the pre and post-op bariatric surgery patient. Services include:
Support & Therapy Groups
Low Impact Exercise Programs
Regardless of where you had your weight loss surgery, Griffin Bariatrics welcomes all patients to take part in its On Track Program. Our program's comprehensive, judgment-free menu of support services is designed to help patients stay On Track to healthier weight loss and weight management.
ADDITIONAL SUPPORT SERVICES OPEN TO ALL WEIGHT LOSS SURGERY PATIENTS AND THOSE CONSIDERING SURGERY
Griffin Hospital offers ongoing support programs at convenient times, at locations throughout Connecticut. Each of our support programs was designed by a team of experts in bariatric medicine, nutrition, exercise physiology and psychology. Ongoing services include:
FITNESS CENTER MEMBERSHIP
Griffin Hospital's Fitness Center is open Mondays, Wednesdays and Thursdays 7:45 am to 11:30am & 3:30pm to 6:30pm.
Griffin Hospital has a state-of-the-art gymnasium where clients can exercise under medical supervision. Stationary bikes, row machines, arm ergometers, elliptical machines, and treadmills are just some of the equipment available at the facility. Members can even have a program designed especially for them by an exercise physiologist. Membership at our Connecticut gym is $60 per month or $160 for three months.
Griffin Bariatrics Fitness Center
BARIATRIC EXERCISE CLASSES
Monday – 6:30pm to 7:30pm
Wednesday – 6:30pm to 7:30pm
Thursday – 6:30pm to 7:30pm
Saturday – 9:00am to 10:00am
Patients who are scheduled for surgery at Griffin Hospital in Connecticut, have had surgery or are considering surgery can take advantage of bariatric exercise classes. These classes provide patients with information about safe, low impact exercises and ways to increase activity in your daily schedule. In addition to exercise, topics such as goal setting, nutrition and lifestyle change will also be discussed. Cost is $50 per month.
Griffin Bariatrics Exercise Program
OUR TEAM
Because we realize that weight-loss surgery is just the beginning of a longer journey toward wellness, Griffin Bariatrics takes a multidisciplinary, team-based approach to your care. Led by director of Metabolic and Bariatric Surgery Dr. Abe Fridman, our team includes nurses, dietitians, exercise physiologists, advanced practice nurses (APRNs), physician's assistants, social workers, and others who are here for you every step of the way. Our goal is to provide everything you need to lose the weight and keep it off for a lifetime.
WE WANT YOUR FEEDBACK!
We strive to provide you with the best peri-operative support. We would like to have your needs met and welcome your ideas. Please call us at 203.732.7108 to tell us about the kinds of support services that are of interest to you.