Home

>

Your Weight Loss Surgery

-

Gastric Bypass
Gastric Bypass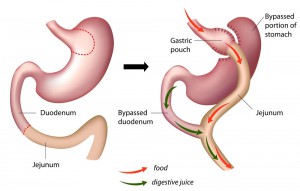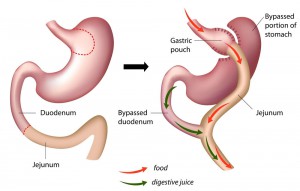 Also known as Roux-en-Y surgery, gastric bypass surgery is one of the most common procedures performed to aid in weight loss. Furthermore, this is the preferred technique for weight loss surgery, according to the American Society of Metabolic and Bariatric Surgeons (ASMBS). For patients seeking to reduce excess weight, our experienced bariatric surgeons may be able to help.
A gastric bypass is performed as a laparoscopic bariatric surgery—an approach that is typically less invasive than traditional, "open" methods. During the operation, one of our skilled surgeons will use very fine instruments through tiny incisions, called keyholes, to reduce the size of the stomach. This new, smaller stomach helps to restrict food intake. Our bariatric surgeon will then attach a piece of the small intestine, which is partly responsible for food absorption, to the newly reduced stomach pouch. As a result, food can "bypass" a significant portion of the small intestine so fewer calories are absorbed. Patients experience weight loss as a result of eating less as well as absorbing fewer calories.
For more information about gastric bypass surgery from our practice, or to schedule a consultation, please contact us today.
Benefits of Gastric Bypass
Among the many obesity treatments available, gastric bypass surgery has typically shown extraordinary results. Within the first two years after surgery, most patients are able to reduce their excess body weight by as much as 60 to 80 percent, though individual results will vary. The most substantial amount of weight will usually be lost in the first six months, with results gradually reducing from that point. However, the gastric bypass procedure has been proven to offer longer-lasting effects in some cases, including incidents of people experiencing post-surgical weight loss for as long as 10 years. Those committed to lifestyle changes that include a nutritious diet and exercise regimen often prove the most successful. Before-and-after photos of our patient success stories are available.
Gastric Bypass Surgery Risks
As with all surgical procedures, gastric bypass surgery poses some risk. Some of the potential complications include:
Dumping syndrome: A condition that occurs when foods with a high-sugar content are consumed. Symptoms include sweating, stomach cramps, dizziness, weakness, and diarrhea.
Excess skin: Weight gain can lead to skin inelasticity, often resulting in excess skin when that weight is lost. Patients may desire plastic surgery to correct the areas of concern.
Reduced mineral absorption: Certain vitamins, including B12 and iron, may not absorb as well after surgery. Patients are encouraged to take a daily multivitamin to help balance their diet.
Gastric Bypass Surgery Cost
The gastric bypass procedure may be covered by health insurance. However, some health care providers require patients to undergo a supervised diet prior to surgery or have a consultation with a medical specialist before approving the operation. Griffin Hospital and our friendly, knowledgeable bariatric team will be happy to help people better understand the terms of their coverage, assist in completing any paperwork necessary, and pursue treatment approval. We also work with a finance company specializing in weight loss surgery that can help individuals who are denied coverage.
Gastric Bypass Surgeons
Our weight loss program is one of the best options for bariatric surgery in Connecticut. Our experienced surgeons, friendly staff, and technologically advanced facilities are first-rate.
Learn More About Gastric Bypass
To help you understand all your options, our experienced weight loss surgeons have provided answers to some frequently asked questions (FAQs) about gastric bypass surgery. If your question is not answered below, or if you would like to schedule a consultation, please contact us through email or by phone.
How does gastric bypass work?
Also called a Roux-en-Y gastric bypass, this surgery is designed to help patients lose a significant amount of excess weight by reducing the size of the stomach and by limiting the amount of nutrients and calories the stomach absorbs. This is accomplished by removing a section of the stomach and rerouting, or "bypassing," the pathway of the food to further down the small intestine, thus the technique's name. As a result, you should feel full after eating less food and take in fewer calories.
Am I a good candidate for this procedure?
The evaluation process is a very important part of assessing whether gastric bypass or perhaps another weight loss technique may best suit your needs and goals. Your medical history will be reviewed and our skilled surgeons will talk to you about what to expect before, during, and after the procedure. You should have a BMI (body mass index) of 35 or higher. If your BMI is under this measurement, other health conditions may play a role in determining if you will benefit from this operation. You should also have tried to lose weight through traditional means and been unsuccessful.
Will I have to go on a diet before the surgery?
We want you to be as prepared as possible for the surgery, and that will include a short-term liquid-only diet for one to two weeks before your operation. This helps to reduce the size of your liver for an optimal result. Other dietary restrictions may also be recommended, either to help you begin to lose weight before the procedure, to satisfy insurance requirements, or for another consideration. We will go over all the details during your initial consultation. We also welcome questions at any time, so please don't hesitate to reach out with any inquiries.
When can I return to work?
Everyone heals at their own pace, and you should listen to your body to help determine when you feel well enough to work and complete daily activities. In general, most people can return to their normal schedule after about two to five weeks, and you should plan for a hospital stay of two or three days initially. These estimates can vary, and your surgeon will provide additional details as needed. We will help you get started with a bariatric exercise regimen and with planning your fitness goals when you are ready to begin.
Will insurance cover the cost?
Every insurance plan is different, and you will have to confirm your coverage with your provider. That said, many medical insurance plans do cover bariatric surgery. Typically, a range of requirements will need to be satisfied before approval is granted, and we will help you navigate this process. Our team of friendly and knowledgeable medical professionals have a great deal of experience working with insurance companies and assisting patients in getting the surgery they need. If you choose to pay out-of-pocket, we offer financing options to help bring the cost of gastric bypass surgery into your budget.
If you have additional questions about gastric bypass surgery and our weight loss program, or if you wish to schedule a consultation, please contact our office today.