New Haven Bariatric Surgeon Employs Planetree Philosophy To Enhance Patient Care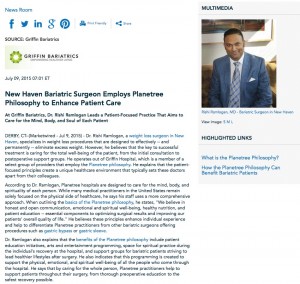 At Griffin Bariatrics, Dr. Rishi Ramlogan leads a patient-focused practice that aims to care for the mind, body, and soul of each patient.
Derby, CT – Dr. Rishi Ramlogan, a weight loss surgeon in New Haven, specializes in weight loss procedures that are designed to effectively – and permanently – eliminate excess weight. However, he believes that the key to successful treatment is caring for the total well-being of the patient, from the initial consultation to postoperative support groups. He operates out of Griffin Hospital, which is a member of a select group of providers that employ the Planetree philosophy. He explains that the patient-focused principles create a unique healthcare environment that typically sets these doctors apart from their colleagues.
According to Dr. Ramlogan, Planetree hospitals are designed to care for the mind, body, and spirituality of each person. While many medical practitioners in the United States remain solely focused on the physical side of healthcare, he says his staff uses a more comprehensive approach. When outlining the basics of the Planetree philosophy, he states, "We believe in honest and open communication, emotional and spiritual well-being, healthy nutrition, and patient education – essential components to optimizing surgical results and improving our patients' overall quality of life." He believes these principles enhance individual experience and help to differentiate Planetree practitioners from other bariatric surgeons offering procedures such as gastric bypass or gastric sleeve.
Dr. Ramlogan also explains that the benefits of the Planetree philosophy include patient education initiatives, arts and entertainment programming, space for spiritual practice during the individual's recovery at the hospital, and support groups for bariatric patients striving to lead healthier lifestyles after surgery. He also indicates that this programming is created to support the physical, emotional, and spiritual well-being of all the people who come through the hospital. He says that by caring for the whole person, Planetree practitioners help to support patients throughout their surgery, from thorough preoperative education to the safest recovery possible.
About Rishi Ramlogan, MD
Dr. Ramlogan is a graduate of the University of the West Indies in Trinidad and Tobago and certified by the American Board of Surgery. He completed a prestigious internship at the Mount Sinai School of Medicine in New York before completing additional training at New York Medical College (Sound Shore) in general surgery, and Danbury Hospital in bariatric surgery and advanced laparoscopy. Dr. Ramlogan is available for interview upon request.
For more information about Dr. Ramlogan and his practice, please visit griffinhospitalbariatrics.com and facebook.com/griffin.bariatrics.
Contact:
Griffin Bariatrics
130 Division St.
Derby, CT 06418
(203) 732-7108
(888) 657-9252
Rosemont Media
(858) 200-0044
www.rosemontmedia.com