Fall Recipes Can Be Very Bariatric Friendly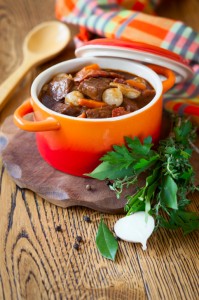 Fall, with it's chilly daytime temperatures, is in full swing in Connecticut. Most of us are looking for delicious comfort foods that keep both our body and soul warm. We are looking for simple recipes that make our homes smell wonderful and that require spending minimal hours in the kitchen, so we can curl up with a good book by the fire and enjoy some time relaxing before dinner. The good news is that slow cooking, such as stewing or using a crockpot, make meats extraordinarily tender and bariatric friendly. After bariatric surgery, such as the Gastric Bypass, Sleeve Gastrectomy or the Lap-Band, some meats can be harder to digest. Mainly, this is because foods need to be chewed thoroughly, since the stomach is not able to further break down food. Meat that is dry, such as chicken breast meat or tougher cuts of beef, can be difficult to digest for some. The key to easy digestion is to keep lean protein moist. Fall cooking naturally lends itself to tender meat.
As a bariatric patient, you want to look for food that is protein rich, lean and low in simple carbs. Here are some fall bariatric meal ideas:
Chili – made with lean beef, turkey and/or beans, chili packs easily into a thermos for lunch and can be made in a crock pot while you are at work. To pack lots of flavor into your chili, toast spices like cumin and chili powder in a skillet first. Experiment with recipes and maybe plan a fun chili swap party with friends!
Stews – use economical cuts of meat. While some stews can be fatty, most stews can be made less heavy by using leaner cuts of meat and avoiding cream. An easy way to boost flavor in your stew is to use a bit of red wine or cognac and fresh herbs
Roasted and stuffed fall veggies – we stuff tomatoes and zucchini in the summer months when we have a bumper crop of produce, so why not continue this trend into the fall? The presentation is always beautiful and the smell in the kitchen can't be beat. Vegetables to try are spaghetti squash, butternut squash and acorn squash. The butternut or acorn squash can be stuffed with turkey, quinoa, and fresh herbs before being roasted in the oven until fork tender. Spaghetti squash can be served with meat balls and marinara sauce after it is roasted. Use a fork to remove the "spaghetti" flesh.
A Note About Soups:
Even though we think of soups as a healthy choice, they are usually not the best choice for bariatric patients. Here's why: Bariatric surgery (regardless which procedure you had) help patients feel satisfied with less food. In order for this to work, food must fill the much smaller stomach or pouch and stay there for a while. This will leave you feeling satisfied and unlikely to eat until the next meal. If you eat thin soup, the liquid is not going to stay in your stomach very long and will result in you feeling hungry soon after. Better choices are stews or chili, which will keep you satisfied longer. If you must have tomato soup, for example, consider adding some unflavored protein powder to your soup. This will not only thicken the soup, but will also add protein to an otherwise protein-poor soup.
To learn more about bariatric nutrition, swap recipes and have a good deal of fun, please register for the OnTrack Workshop, which is held free of charge every month at Griffin Hospital. To attend an Informational Seminar about our patient-centered bariatric program, please contact Kim Fisher, Bariatric Care Specialist.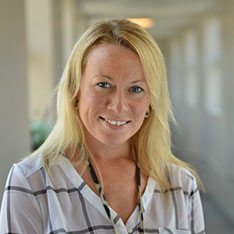 Ask Kim
Questions? Ask Kim!
Get A Quick Response
Need help registering for support groups, monthly workshops or bariatric seminars? Unsure of the process or how to begin? We take pride in offering concierge style guidance for all current and potential patients.