Comforting, Bariatric Surgery Friendly Breakfast Recipes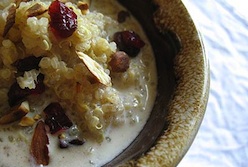 Eating a healthy, protein rich breakfast is important, especially after weight loss surgery.  Breakfast is part of a healthy lifestyle: breakfast boosts your metabolism, gives you much needed energy and helps you reach your protein goal for the day – provided you choose a healthy, protein-rich breakfast.  Now that the mornings are getting a bit cooler, we thought that you would enjoy some easy, feel-good breakfast recipes.
Hot Quinoa Breakfast
After Gastric Bypass, Sleeve Gastrectomy or Lap-Band, oatmeal can feel anything but comforting.  Often, oatmeal sits like concrete in the stomach (or pouch) leaving little room for that soothing, comforting feeling you were looking for.  In this recipe, Greek yogurt gives this hot breakfast a light texture that is easy to tolerate.  Swap out the chocolate protein powder for vanilla or unflavored varieties to change the flavor.  You can add a little skim milk or soy milk for a thinner porridge.
Makes 3 servings, 15 grams of protein per ¾ cup serving
½ cup quinoa
½ teaspoon cinnamon
1 Pinch nutmeg
1 cup plain non-fat Greet yogurt
1 scoop Bariatric Advantage Chocolate HPMR
Non-calorie sweetener (if desired)
Rinse quinoa in cool water.  Bring 1 cups of water to a boil.  Stir in quinoa and simmer for 15 to 20 minutes, until tender.  Drain excess water. Add cinnamon and nutmeg to the cooked quinoa and stir in the Greek yogurt and BA HPMR powder.  Add non-calorie sweetener to taste.
Scrambled Eggs with Beans
Eggs are a wonderful source of protein and are a natural breakfast choice.  Boost up your eggs with some beans to give them added fiber, flavor and protein!  Give this recipe a southwestern kick by using black beans and serving with salsa.
Makes 2 servings, 13 grams of protein per serving
2 teaspoons olive oil
1 thinly sliced shallot
½ 11 ounce can cannellini beans, rinsed and drained
2 eggs, lightly beaten
Heat oil in a skillet, add the shallot and beans and cook over low heat, stirring occasionally, for about 10 minutes.  Add the eggs, season with salt and pepper and stir with a fork to scramble.  As soon as the eggs become creamy, remove the skillet from the heat and serve immediately.
High Protein Pumpkin Breakfast Shake
This ice cold shake will leave you warm all over and promises that extra energy needed for picking apples, racking leaves or carving pumpkins.
Makes 1 serving, 23 grams of protein per serving
1 scoop Bariatric Advantage vanilla HPMR powder
1 cup skim milk
½ cup canned pumpkin
Pinch pumpkin pie spice mix
Put all ingredients in a shaker or blender and puree until smooth.  Pour over crushed ice, if desired.
Bariatric cooking demonstrations at the On Track Workshop
Please join us at the next On Track Workshop, on Saturday, October 15th. We will have a cooking session with bariatric friendly recipes that are delicious and easy.  The On Track Workshop is held every third Saturday of the month from 9 A.M.  to noon at Griffin Hospital.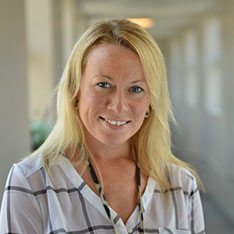 Ask Kim
Questions? Ask Kim!
Get A Quick Response
Need help registering for support groups, monthly workshops or bariatric seminars? Unsure of the process or how to begin? We take pride in offering concierge style guidance for all current and potential patients.