Going Strong: Weight Loss Surgery Exercise Program at Griffin Bariatrics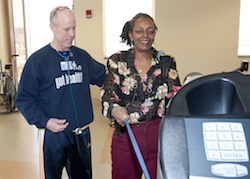 At Griffin Hospital, we understand the struggles of adopting a healthy lifestyle, particularly when it comes to exercise. Finding a gym that has staff that recognizes the challenges and health concerns of obesity can be difficult. Due to the popularity of the inspiring and judgment-free Bariatric Exercise Program at Griffin Hospital, the specialized team of exercise physiologists has been expanded. Three exercise physiologists evaluate each person, develop an individual exercise plan and help them progress. Further, new weekend and evening hours make participation more convenient. Eunice Lisk, MS, staff exercise physiologist overseeing the program, sees the incredible strides that patients make every day: "Working with the bariatric patients has been such a delight. I have learned so much from them and hope that I have been able to help them along their journey of weight loss and continued health".
Encouraging and Supportive Staff
Please join us in welcoming our newest exercise physiologist, Tom Kavanagh. Tom is a member of the American College of Sports Medicine. He attended Southern Connecticut State University for Exercise Science with a concentration in Human Performance. After meeting some bariatric patients as a student, he knew that he wanted to continue working in the field of bariatrics. He brings wonderful energy and empathy to the program. Tom's insistence of checking in on patients who have missed a session to ensure their wellbeing is just an example of his compassion. His kindheartedness comes through when discussing his role in the weight loss surgery exercise program: "I take the needs of others very personally and will do my very best to meet all needs. I have the utmost respect for the patients of the Bariatric Exercise Program and it is my pleasure working with a group of people that are so dedicated and committed to improving their health. I love the determination and willpower that they all express to get to their personal goals."
Diminishing surgical risk before weight loss surgery
Patient centered care in the Planetree philosophy is not just about excellence in care while at Griffin Hospital recovering from Gastric Bypass, Sleeve Gastrectomy or Lap-Band Surgery. It is about giving each patient the most comprehensive care before and after weight loss surgery. It is well documented that exercising before bariatric surgery is crucial in keeping surgical risk low. Patient safety is taken very seriously and under the guidance of Dr. Tim Ehrlich, Medical Director for Metabolic and Bariatric Surgery, Griffin Hospital has implemented a pre-operative exercise program. The goal is to increase lung function to minimize post-operative complications. Further, getting pre-operative patients accustomed to an exercise routine will empower them to continue this lifestyle change post-operatively.  so, enroll today!
Improving outcomes after Weight Loss Surgery
A specialized exercise program is important, particularly after Revisional Surgery, weight regain or when struggling with a weight loss plateau. "Long-term support is the key to lifetime success. The camaraderie amongst the participants is an added bonus. Patients share their successes, struggles, and outlook as they exercise and lose weight together" observed Eunice Lisk, MS. Sign up for the Bariatric Exercise Program to improve your outcomes! To receive additional support for successful weight loss and lifestyle modifications, please register for the On Track Support Group and the On Track Workshop. If you would like to learn more about weight loss surgery, please register for a free seminar.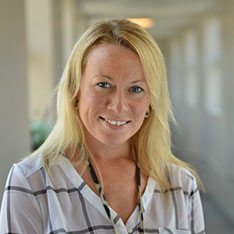 Ask Kim
Questions? Ask Kim!
Get A Quick Response
Need help registering for support groups, monthly workshops or bariatric seminars? Unsure of the process or how to begin? We take pride in offering concierge style guidance for all current and potential patients.